Whether as a welcome escape from the winter cold or as an any-time-of-year retreat to a desert oasis, Scottsdale is an evergreen vacation destination. A part of the larger Phoenix area, Scottsdale is particularly popular with tourists thanks to its smaller size and wealth of activities.
Old Town Scottsdale is an all-around hub. It has shopping, a wide variety of fantastic restaurants, and a handful of unique attractions. Spending time in the great outdoors is another big draw. Golf, in particular, is huge in Scottsdale. The area has over one hundred courses. 
With all these things going for it, it's easy to understand the temptation to visit. Scottsdale offers access to the larger attractions of Phoenix but is somewhat distanced from the big city sprawl (especially true for those staying in the northern part of Scottsdale). Summer visitors can expect better deals but must be prepared for scorching temperatures. Spring and fall aren't as busy as the wintertime and make for something of a happy medium.
To help you plan your trip, we've put together this list of 10 highly desirable Vrbo vacation rentals in Scottsdale. There is diversity in terms of size, location, and price to help give you a broader picture of all that is possible in this wonderful town.
Hillside Estate On Camelback Mountain
Rent Now
$2,646.00/avg nightly
Perched below steep slopes and steeped in luxury, this Arizona mansion provides a way of life that few ever get to experience. From high thread count sheets to the possibility of arranging a professional chef, the home offers a myriad of ways to live in unparalleled luxury.
The astonishing views of Phoenix and its many mountains are best enjoyed from the stylish modern pool or perched on one of the many balconies. There are 10 golf courses in the immediate vicinity and downtown Scottsdale is about a 10-minute drive away.
Bedrooms: 5
Bathrooms: 5
Sleeps: 14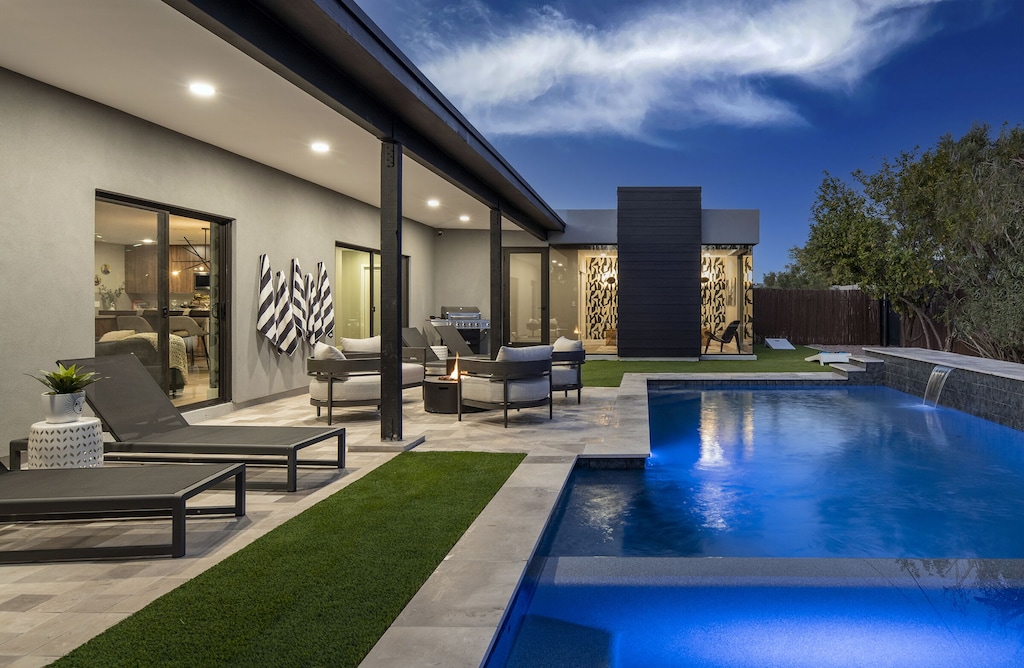 Strikingly Modern Oldtown House
Rent Now
$709.00/avg nightly
This home (2 minutes by foot from downtown) was remodeled in early 2022 — and it shows. The architecture of the home has always been thoroughly modern. Now the interior design is a perfect match. The home has two master suites plus a stylish private pool and patio area. From the bathrooms to the dining rooms, everything about the house exudes the elegance of modern design.
More magnificent than truly minimalist, it is a style that we think few will find fault with. The nightlife and culinary delights of downtown Scottsdale are just around the corner, if you manage to leave the pool.
Bedrooms: 3
Bathrooms: 3
Sleeps: 6
Galactic Getaway
Rent Now
$717.00/avg nightly
This private unit in the Scottsdale Beach Club is undoubtedly a unique way to enjoy the area. Furnished according to an obvious theme, it is not your ordinary vacation rental. Great for families, the place has two queen rooms, a twin room, and a room with two bunk beds (one of which has a full bed below).
The space-themed decor isn't for everyone, but it is certainly tastefully done and worthy of a look. The club has a lovely common area with a cabana, pool area, and oversized jacuzzi. The property is located a few miles south of downtown Scottsdale and a few blocks east of the Desert Botanical Gardens.
Bedrooms: 4
Bathrooms: 2
Sleeps: 12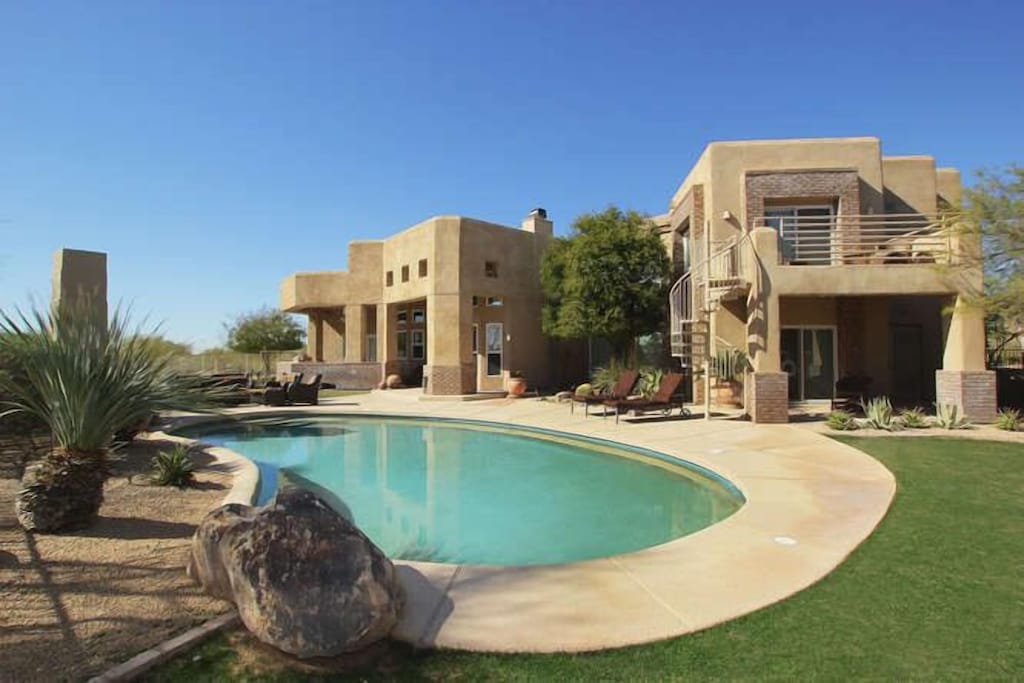 Adobe Home In Upper Scottsdale
Rent Now
$223.00/avg nightly
Far from the noise of the city and close to the desert, this grand adobe home in northeastern Scottsdale is your ticket to the delights of the desert. Twenty minutes by car from downtown, the property is in a quiet area but close enough to the region's major arteries.
The building is a classic adobe construction built on a larger than usual scale, providing room for up to nine guests across four bedrooms. The living areas are brilliantly designed in a manner fitting the local environment, as are the outdoor areas (which include a pool and garden with native plants).
Bedrooms: 4
Bathrooms: 4
Sleeps: 9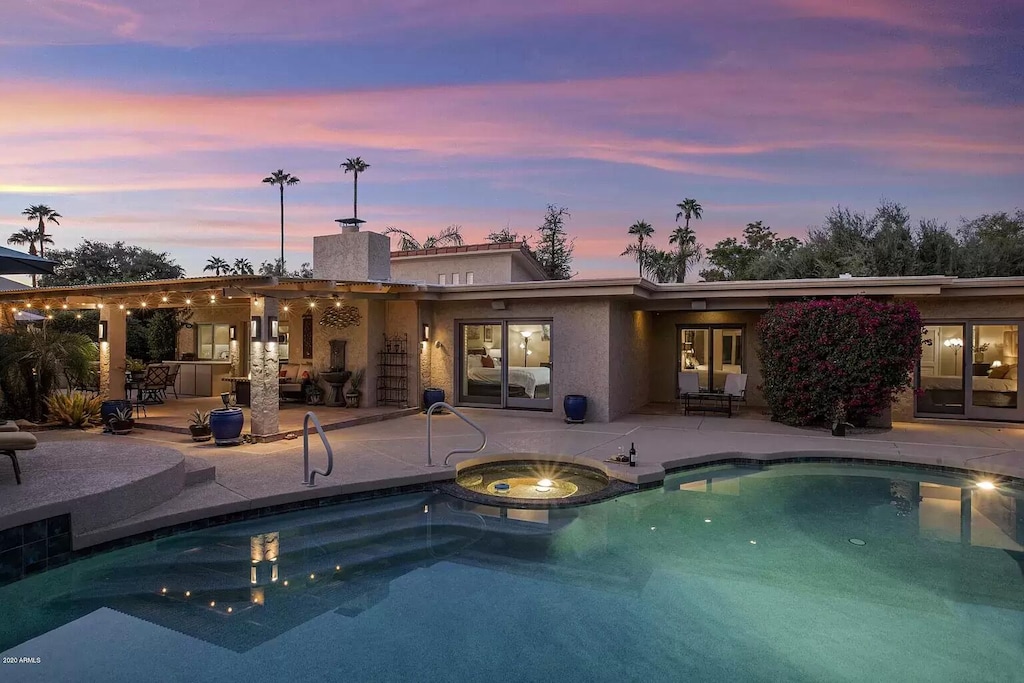 Single Story Home Between The Golf Courses
Rent Now
$429.00/avg nightly
Surrounded by water on three sides, this rare home has the feel of a single-family resort. Your party will surely enjoy the private pool and spa, just as they will the enviable location. Two golf courses are easily walked to, as are supermarkets, high-end restaurants, and more. Downtown, meanwhile, is a 10-minute drive away.
The home itself is quite spacious. It fits up to six guests and won't feel crowded even at capacity. There's a master bedroom, a queen room, and a guest room with two doubles.
Bedrooms: 3
Bathrooms: 3
Sleeps: 8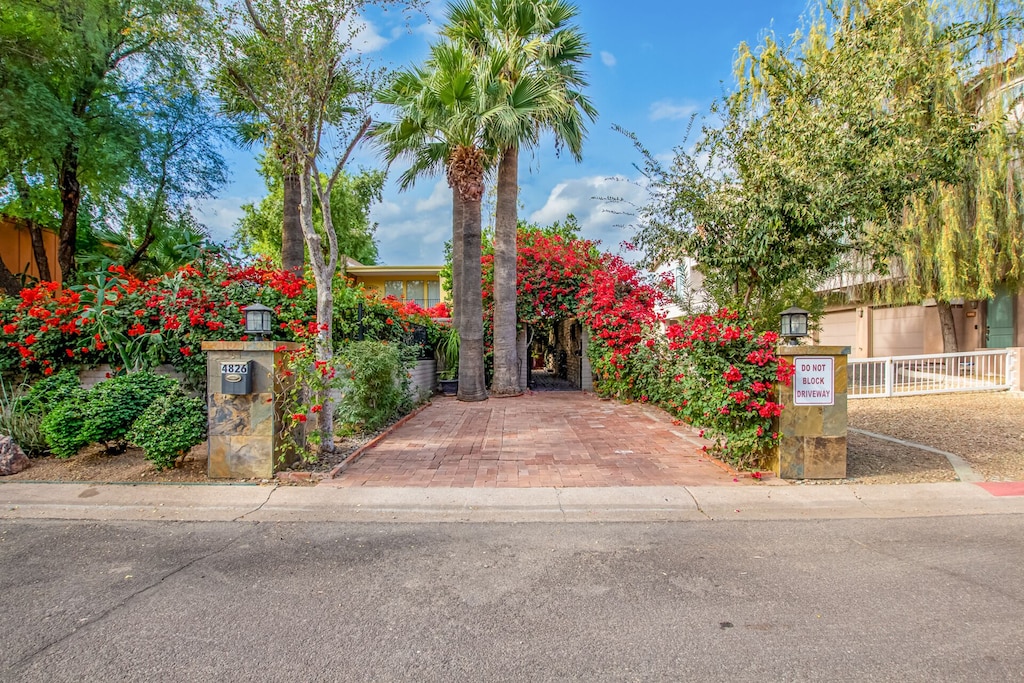 Secluded Condominium Near The Canal
Rent Now
$290.00/avg nightly
With abundant and well-chosen flowers and other flora pouring out from every outside surface of the building, gates, and walled fences, this lush condominium has the feel of a secluded villa. Enjoy a cornucopia of red flowers hanging off of the Juliet balcony as you swim in the private backyard pool.
A wide and carpeted spiral staircase takes guests up to the second floor where the master bedroom (the one with the lovely balcony) is to be found. There are two additional queen bedrooms and a pull-out sofa. The home is just a short walk from the canal, which marks the heart of downtown Scottsdale.
Bedrooms: 3
Bathrooms: 3
Sleeps: 6
Casa Cielo
Rent Now
$950.00/avg nightly
Another excellent option for a family or large group interested in desert life as well as the charms of Scottsdale's historic center, this grand home offers the opportunity to forge unforgettable memories. Though located miles north of town amidst mountain slopes and desert terrain, the house boasts five golf courses within a 3-mile radius. Shopping is also just a short drive away.
The luxurious pool area, with its three fireplaces, fountains, and basketball hoop, is extravagant, but then again. so is the interior. Five of the six bedrooms have ensuite bathrooms, among other glamorous features. All in all, Casa Cielo is a site for family fun.
Bedrooms: 6
Bathrooms: 6
Sleeps: 12
The Happy Cactus
Rent Now
$129.00/avg nightly
Conveniently located just blocks from the heart of Scottsdale's historic center, this townhouse is great for a couple (or three) ready to spend a few days downtown. There's plenty to do in the area, including at the home itself, which has a small patio area and a saltwater pool shared by other residents of the complex.
The home is small and simple but has everything necessary for an enjoyable stay. There is a queen room, a master with king, and an extra queen-size sleeping space in the living room. In terms of decor, the owners have delightfully engaged with the cactus theme.
Bedrooms: 2
Bathrooms: 1
Sleeps: 6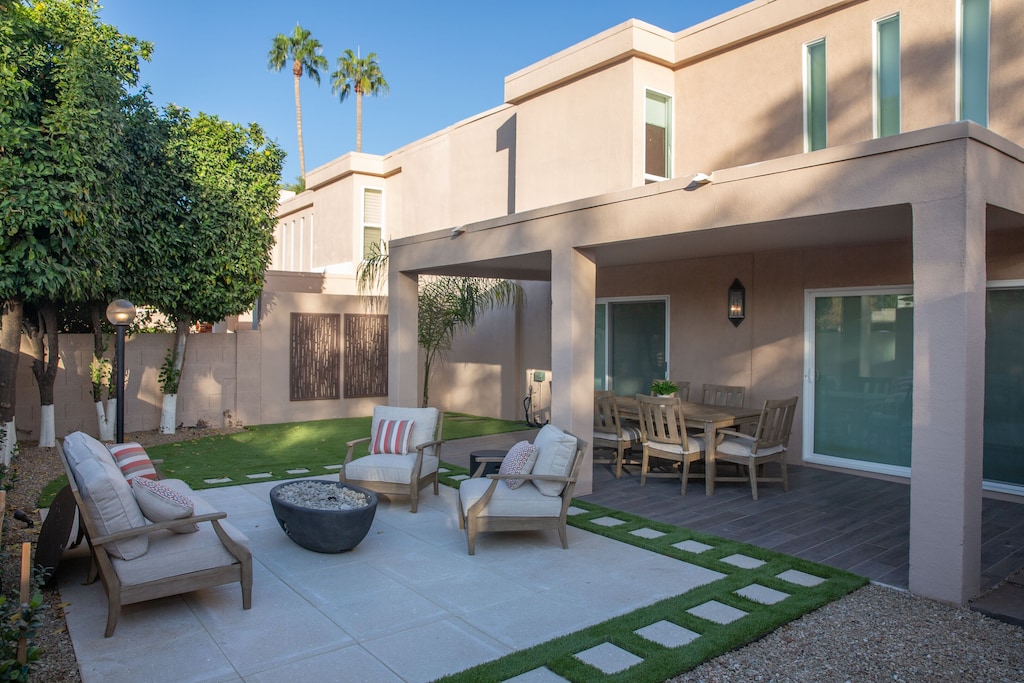 Mid-Century Home In McCormick Ranch
Rent Now
$319.00/avg nightly
This spacious mid-century home is great for a multigenerational family or group of friends who want to enjoy each other's company while maintaining privacy and personal space. All four bedrooms are masters, complete with king beds (one of which can also be turned into two singles) and ensuite bathrooms.
The steam shower adds a particularly palpable sense of luxury, as do the 18-foot ceilings and classic mid-century design. The house has an 82-inch TV and private fitness studio, and guests are allowed access to the neighborhood pool.
Bedrooms: 3
Bathrooms: 4
Sleeps: 8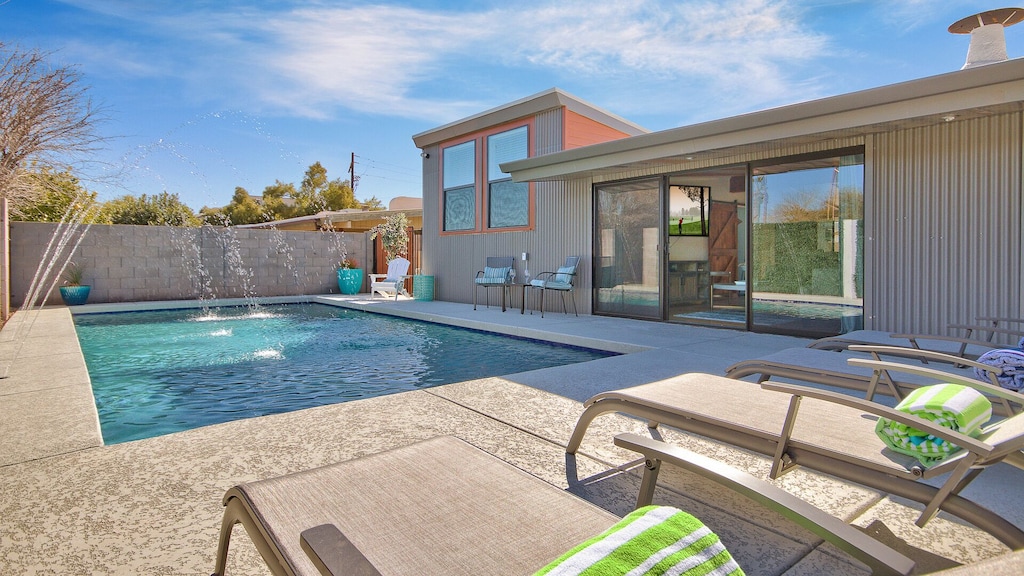 Open Plan At Fashion Square
Rent Now
$719.00/avg nightly
Airy, roomy, and classy, this large home in the Fashion Square area (just north of the center of Old Town) offers something for everyone. The location is just one of many factors making this a great Vrbo vacation rental in Scottsdale. Fashion Square and the rest of Old Town are easily reached on foot, as are the slopes of Camelback Mountain. This means restaurants, shopping, and outdoor activities are all close by.
For those staying in, the home has a private pool, billiard table, and foosball. The kitchen and living areas feature plenty of surface space and elegant designs. The home can fit up to eight people, be they adults or children.
Bedrooms: 4
Bathrooms: 3
Sleeps: 8
To discover the best things to do in Scottsdale, check out: