Investment Thesis
Cards on the table: I invested in Zillow Group, Inc. (Z) because of its potential in iBuying.
Then I spent about 6 months licking my wounds.
But now, I'm ready to get hurt again – or hopefully not, as perhaps Opendoor Technologies Inc. (NASDAQ:OPEN) can succeed where Zillow failed. The thesis behind iBuying remains the same; it is better for buyers and sellers, the process is less complex and painful, and it can enable platforms to extract more value from the home buying and selling process.
But does that mean Opendoor is going to succeed, and does it look like a good investment right now? I put it through my framework to find out.
Business Overview
Opendoor is a leading digital platform for buying and selling residential real estate – typically known as iBuying. It was founded in 2014 with a mission to "empower everyone with the freedom to move," and the company looks to achieve this by leveraging technology to make buying and selling real estate possible from a laptop or mobile phone.
The U.S. real estate market alone is worth about $2.3 trillion, but the process of buying and selling a home is convoluted – with a multitude of steps, and tons of intermediaries who increase both the cost and the time it takes to complete a transaction.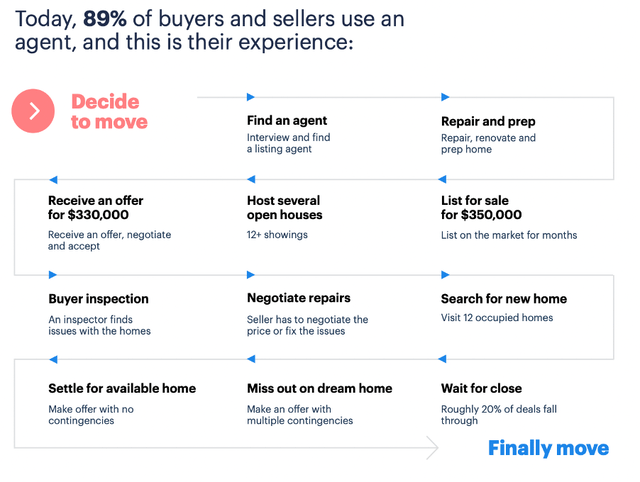 Opendoor is looking to change this process by using machine learning algorithms to make it easier to complete a real estate transaction. At the end of 2021, Opendoor had the following core offerings:
Sell to Opendoor: homeowners can sell their home directly to Opendoor for an all-cash offer. They will receive a preliminary offer online, Opendoor then conducts a variety of checks to verify information about the home, including a virtual interior home assessment. Once all has been confirmed, sellers can then select their preferred closing date and, in some cases, are able to close electronically. Opendoor charges a 5% service fee for customers who sell directly to them.
Buy with Opendoor: unlike the current process with agents acting as intermediaries, Buy with Opendoor customers can use the company's app or website to self-tour or virtually tour both Opendoor and non-Opendoor homes, shop for financing, and submit an offer backed by Opendoor's cash. In these transactions, Opendoor collects the buyer's agent commission from the seller.
Opendoor Home Loan: launched in 2019, this tech-enabled mortgage platform helps customers looking to buy or refinance a home. Opendoor acquired the assets of digital-first mortgage brokerage RedDoor in 2021 to help accelerate its progress with this product.
Title and Escrow: Opendoor offers customers integrated title insurance and escrow services through its subsidiaries, charging fees related to settlement and escrow as well as title insurance premiums.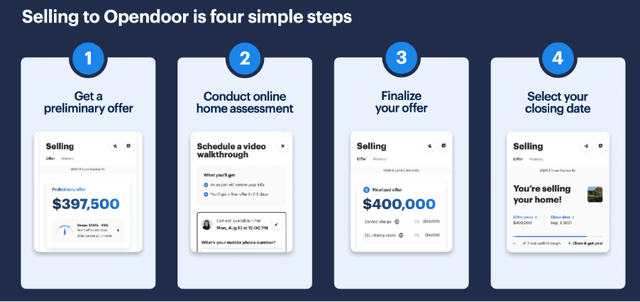 Now, I am a former investor in Zillow, which has probably been the most talked about iBuying business over the past 12 months for all the wrong reasons. Zillow remains the digital leader in the U.S. real estate market, but it had a wealth of data & years of Zestimates to help the company price iBuying offers accurately – it just didn't work. Zillow Offers failed, the company laid off 25% of its staff, and it lost almost $1 billion on its iBuying business.
This has made myself and many on Wall Street increasingly cautious when it comes to investing in iBuying businesses, so the first question I have to ask about Opendoor – do its algorithms actually work, or is it just going to pull a Zillow & buy all the houses in the U.S.? Well, the numbers speak for themselves.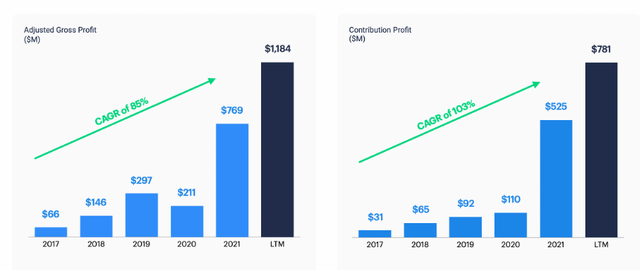 The company has successfully increased both the gross and contribution profits generated over the past 5 years, and the company was actually GAAP-PROFITABLE in Q1'22 – considering Opendoor still has a substantial amount of room to scale up, the Q1'22 profitability so early on is a great sign. Clearly, Opendoor is a business with more nous than Zillow, and this is demonstrated by its ability to continue to improve profitability and contribution margins. As we can see below, all margins have been trending in the right direction over the past five years.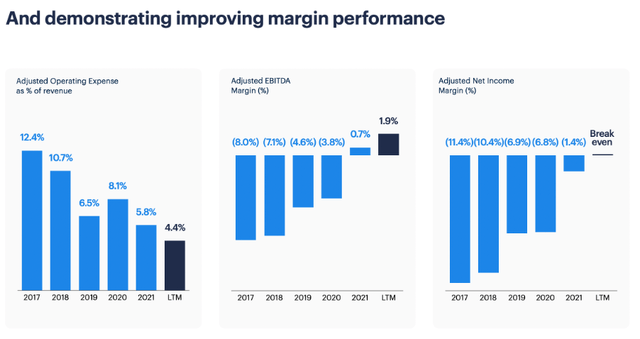 Opendoor is also a lot more cautious when it comes to its conservative cash offers as well as the length of time it holds properties for. The longer a property is held, the more its future valuation could fluctuate – and after seeing what happened with Zillow, investors will worry about the impact of that fluctuating to the downside. Opendoor addresses this, highlighting that it only holds properties for 3-4 months, with ~35% of inventory under resale contract at any given time.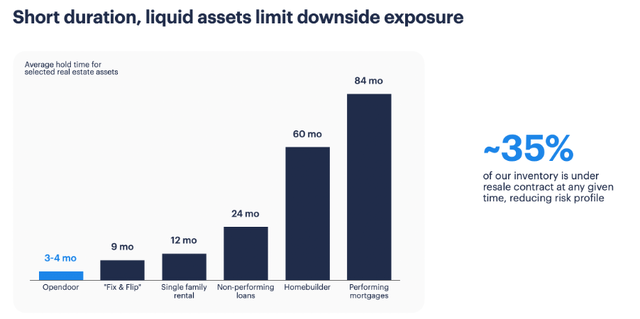 So, Opendoor has done enough to convince me that it might not be Zillow 2.0 – I'll always be cautious now with iBuying, but I do think that (done correctly) it will transform the real estate industry. Not only is it more efficient, but customers love it as well, with Opendoor boasting a staggeringly impressive NPS score above 80!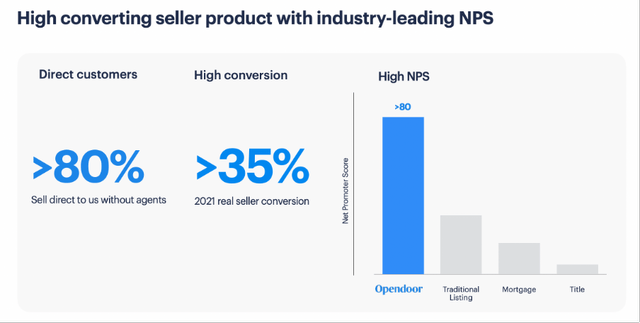 Economic Moats
With every business, I look to see if there are any durable competitive advantages (aka economic moats) that will help the company continue to thrive whilst protecting itself from competition.
One economic moat that I see for Opendoor relates to its pricing algorithms. Clearly its technology is far above the "algorithms" used by Zillow, as this company is actually capable of pricing homes appropriately without inflating local housing markets and losing enormous amounts of money. The company has demonstrated that it currently has the best iBuying technology out there (albeit with a limited number of competitors), and as long as this technological leadership continues, Opendoor will have a moat to protect itself from any competition.
Another also relates to its algorithms, and that is the network effect. Opendoor has been solely focused on iBuying since its inception, and as such it has been able to access a ton of data to feed into its algorithms, which should enable it to more accurately price homes. The company has conducted ~375,000 home assessments to date, during which it collects over 100 data points on each home and its surroundings. All this data should make Opendoor's prices more accurate, which should lead to more customers (or increased longevity against competitors who are overpaying for homes), which will then give Opendoor more data, and this is a virtuous cycle that should help Opendoor improve its pricing further.
As the company puts it in their 2021 Annual Report:
Our unique data works in concert with our pricing algorithms. These algorithms use machine learning to drive pricing decisions through modeling of observed home sale prices, demand forecasting, outlier detection, risk assessment, and inventory management. Over time, we have improved the quality of our pricing models as we add new data inputs and refine model logic, improvements that compound with experience and scale.
I should highlight that currently I don't see any strong economic moats. The main moat for Opendoor relates to its technology, data, and pricing algorithms. These remain a 'black box' for investors, who can only go on the results rather than judging the actual inputs themselves – and don't get me wrong, the results have been good so far, but if Opendoor's data starts trending the wrong way then investors should be very, very cautious.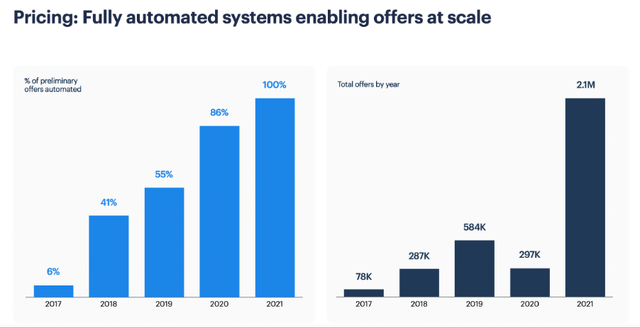 Outlook
Clearly the opportunity for Opendoor lies way ahead of it. The company operates in the $2.3 trillion U.S. real estate industry, of which it makes up ~0.5% – note that this is U.S. only, just imagine the possibilities of international expansion. There are a lot of opportunities ahead for this company.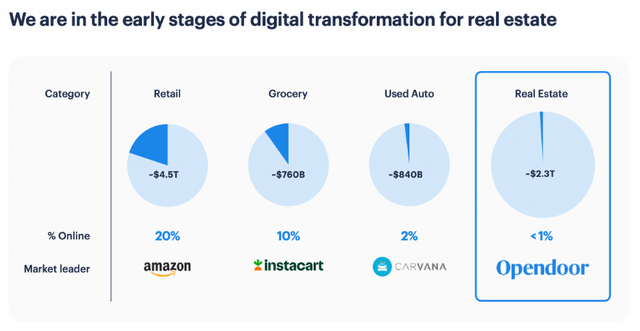 There is also an awful lot of operating leverage ahead. Opendoor is a low margin business operating with high value transactions, so don't go expecting to see SaaS margins. The company hopes to achieve a net income margin of between 2-4% in the long-term; this doesn't sound like an awful lot, but let's paint a picture.
Grand View Research expects the U.S. Real Estate Market to grow at a 5.2% CAGR from 2022 through to 2030. Applying this growth rate to the ~$2.3T market size estimate given by Opendoor would result in a ~$3.45T market by 2030. Let's assume that Opendoor has expanded market share and now makes up 2% of the market (this is probably conservative, as iBuying is a trend that should keep eating up market share & Opendoor is the leader); then assuming a 3% net income, Opendoor would be making $3.45T x 2% market share x 3% net income margin = $2.07 billion in net income alone. So, small margins, big numbers.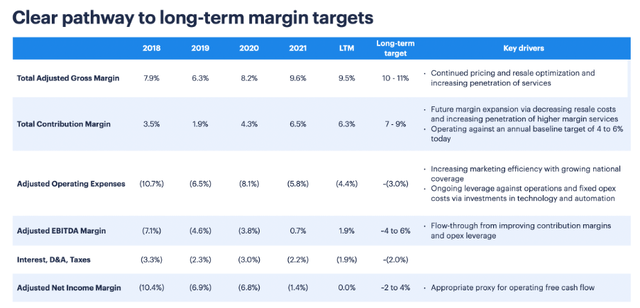 Management
When it comes to fast-paced, innovative companies, I always aim to find founder-led businesses where inside ownership is high. I get a bonus with Opendoor, as not only is the CEO Eric Wu a co-founder, but CTO Ian Wong is another co-founder; I do enjoy seeing multiple founders still working in a company.

I want to invest in companies where leadership has skin-in-the-game, and we do see this within Opendoor. CEO Wu owns ~5% of all shares in the company, which is a decent amount of insider ownership, and CTO Wong owns just under 1%.

I also like to take a quick look on Glassdoor to get an idea about the culture of a company, and Opendoor gets some sub-par scores from the 514 reviews left by employees. Any score over 4.0 is impressive, and I'm sad to say that Opendoor only manages to hit 4.0 in one category. There are particularly low scores for Senior Management, Work / Life Balance, Career Opportunities, and Compensation and Benefits – lower scores in these areas clearly indicate the employees don't feel like the reward for their work is worthwhile, and that middle management is not great.
Given that Opendoor's moat relies heavily on its technology and algorithms, it needs to ensure that it can attract and retain talent – these scores indicate that it might struggle with this.
The one positive is a high CEO approval rating, so… yay?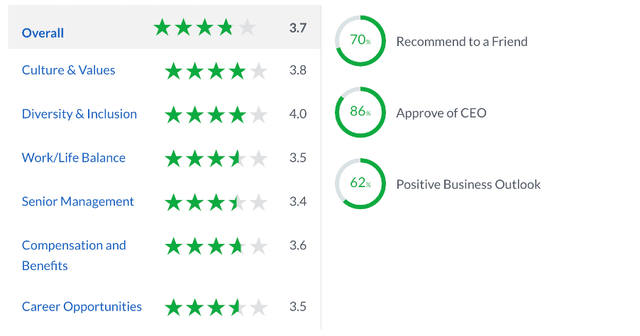 Financials
Opendoor has seen stellar revenue growth over the past few years, which has continued in 2022. The company has grown revenues at a ~63% CAGR from 2018 through to 2021 despite a big lockdown-induced hit in 2020, with gross profits growing at a quicker ~76% CAGR thanks to continued margin expansion. The company has had the secular tailwind of iBuying combined with a very hot U.S. housing market to help it achieve this hyper-growth.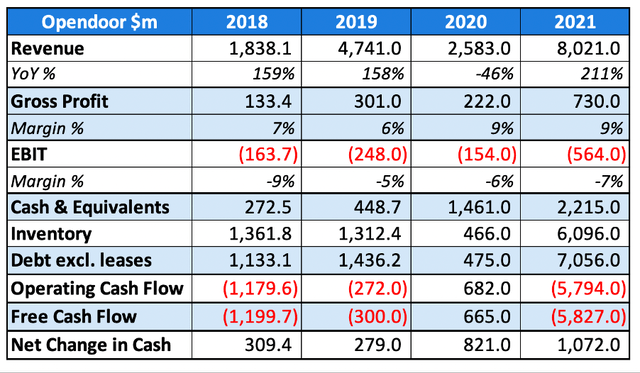 It's worth highlighting that the company has been unprofitable for most of these years, and it doesn't necessarily have the balance sheet to cope with this comfortably. Thankfully, it did turn net income profitable in Q1'22, and also expects to bring in adjusted EBITDA of $170m-$190m in Q2'22 – plus, when we look at contribution profits and margins, everything continues to head in the right direction.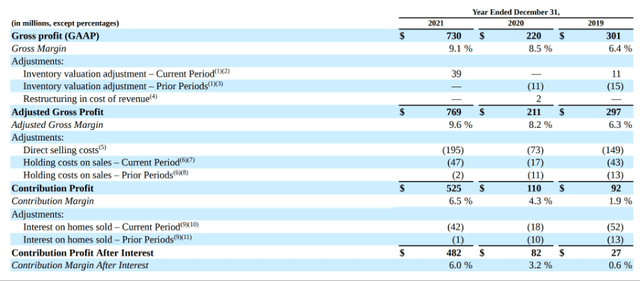 The operating and free cash flows generated here make my eyes hurt, but we need to take a step back and see how Opendoor operates from a financial perspective. As we know, there is a 3-4-month lag between buying and selling a home – this is going to negatively impact free cash flow. It's also worth noting that Opendoor continues to expand and buy more homes – this will also negatively impact free cash flow as homes bought outpaces homes sold. Finally, the increase in inventory has a negative impact on operating and free cash flow, but the increase in cash to pay for these homes via debt financing has zero impact on operating and free cash flow – this is instead recorded within 'cash from investing activities'. So, I've also highlighted the annual net change in cash, which does highlight that Opendoor is increasing its cash balance each year, and things aren't as dire as the free cash flow makes it seem.
That said, it does make me slightly uncomfortable to see how levered the company is, with cash & inventory only just higher than debt. This is more of a personal preference, and I know leverage is normal in the real estate industry, but it just makes me fear that the business is more fragile to any shocks.
Valuation
As with all high growth, disruptive companies, valuation is tough. I believe that my approach will give me an idea about whether Opendoor is insanely overvalued or undervalued, but valuation is the final thing I look at – the quality of the business itself is far more important in the long run.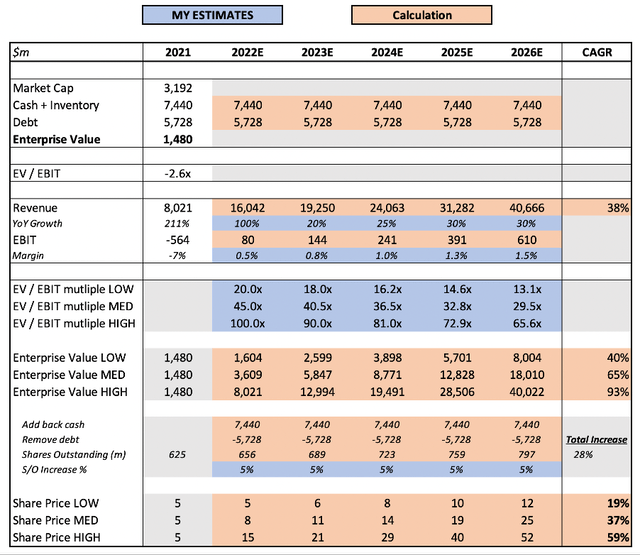 I have assumed substantial revenue growth to continue in 2022, as Q1'22 growth was up 590% YoY and management have guided for 254% YoY growth in Q2'22 – although this is comparing against covid-19 impacted quarters. I have then assumed a substantial drop off in revenue growth in later years to allow for the potential impact of a recession, or at least a slowdown in demand. I don't, however, expect this to have a long-term negative impact on Opendoor – it is riding a secular growth tailwind, and this will continue to help it expand throughout the upcoming decade.
I have also assumed a gradual increase in profitability, which is already being seen in 2022. The targeted long-term adjusted EBITDA margin is 4-6%, and so I feel like an EBIT margin in 2026 of 1.5% is appropriately conservative, since this company does not see much depreciation and amortization, so EBIT and EBITDA will always be fairly similar.
I have also used a broad range of EV / EBIT multiples; I think 13.1x in my low-case scenario is incredibly conservative, and I've used it purely to allow for some error in my assumptions. Yet even this multiple would result in a 19% CAGR for shares through to 2026, which is still extremely impressive.
Put everything together, and my valuation model implies a whopping 37% CAGR for Opendoor shares in my mid-range scenario through to 2026.
Risks
There are two big risks for Opendoor: a recession, and problems with their technology.
We have seen Opendoor operate extremely well over the last few years, having achieved profitability very recently. The bears and sceptics will say that Opendoor has had the luxury of a hot housing market with huge demand – and they would be right. Opendoor hasn't had to go through a recession, and if it fails to cope, the company's financial profile might not be strong enough to survive.
That said, Opendoor points out that, excluding the global financial crisis, home prices have only had 6 quarters of prices falling by 1% or more since 1975, and this happens slowly. The company highlights its own risk management tools an awful lot, which I'm happy to see after the whole Zillow debacle.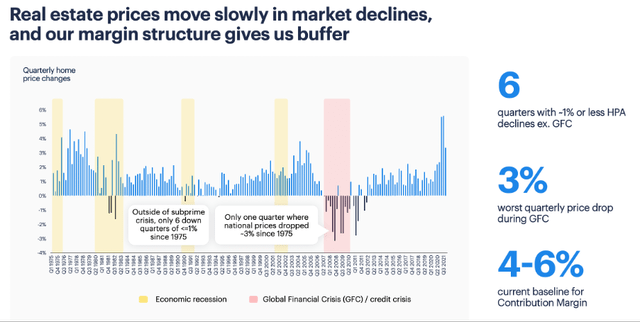 If the U.S. does head into a recession, and if Opendoor does manage to survive, then I think the business will not only be stronger for it, but investors will start to believe once again in the viability of iBuying.
The second risk is associated with its technology, and that is the risk of Opendoor basically "doing a Zillow." There are no signs of this at the minute, but investors should watch out for red flags such as narrowing margins or inventory levels getting out of hand.
Summary
I still have the ghosts of my Zillow investment haunting me, and it gives me pause before jumping into another "black box" iBuying business. But Opendoor has the numbers to demonstrate an algorithm that works, a founder-led management team with skin in the game, and a very wide margin of safety on its current share price.
The only reason that I am not rating Opendoor as a "strong buy" is because I'm still not completely comfortable with the resilience of its technology, and would like to see the business tested in a recessionary environment. I'd also like to monitor its profitability over this period, but there is no doubt that this company has a lot going for it.
My approach to investing is to find companies capable of changing the world, knowing that some will fail, but knowing that those that succeed will drive the majority of gains in my portfolio. Opendoor certainly falls into this category, and I think the current risk / reward profile is extremely attractive for investors who believe that iBuying is the future, and that Opendoor can be the company to deliver it.